Biography
Born in Heerlen, The Netherlands 1952
Lives and works in Adelaide, Australia.
Exhibits with Bapëa Gallery, Adelaide
Education
Bachelor of Fine Arts
Gerrit Rietveld Akademie Amsterdam, The Netherlands
Bachelor of Laws
University of Adelaide, Australia
Selected Public Collections
Wilderness College, Adelaide
The Art Gallery of South Australia
Shop Distributive & Allied Employees' Association
Awards
Nexus Visual Arts Award, Adelaide
Pat Corrigan Artist Grant, The Australia Council
The Rocks Art Prize, Sydney
Project Grant (exhibition), SA Department for the Arts
Project Grant (professional development )SA Department for the Arts
Selected Solo Exhibitions.
Please refer to extensive CV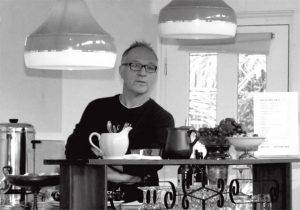 Peter Bok is an Australian painter living in Adelaide, South Australia. After graduating from Law at The University of Adelaide, Peter travelled to Europe to study Fine Arts at the Gerrit Rietveld Akademie in Amsterdam, The Netherlands. Completing his training in 1984, Peter moved to (West) Berlin where his acute interest in the 'Neue Wilde' group, including artists such as Rainer Fetting, Helmut Middendorf and Salomé, was to greatly influence his bold figurative painting style.
After returning to Adelaide in 1987, his art practice gradually moved away from figurative imagery with its dynamic use of line and gesture. He began to construct new abstract works characterized primarily by flat, geometric colour fields.The formal language of his non-objective painting however, has not entirely eclipsed his interest in figuration and 'things real' in the world. His work continues to express a profound concern with the tension sustained between the real and the imagined as well as the representational and the non-objective.
A firm commitment to abstraction on the one hand is challenged by an equally convincing subsequent gravitation towards figuration. This dance of styles has evolved to become Bok's trademark, surprising his viewers with the ever-changing shift from representational to abstract work and back again. In 2000, Peter established Bapëa Art School & Studios in Brompton, South Australia. Offering professional training, Bapëa is Adelaide's leading independent art school. The school has gained a reputation for its workshop programme presented by international art practitioners.
Peter regularly exhibits at Bapëa Gallery.